Tomacelli's Catering
Please allow 24 hours notice, Pricing below is for HALF PAN (9x12 foil pan)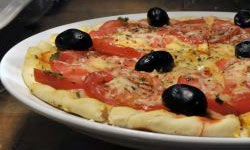 Have Tomacelli's cater your next meal! Great for office lunches, birthday parties, or any other event large or small!
Spaghetti (meatless) - $39.99 ea.
Spaghetti w/ Meatballs, Fettuccine Alfredo - $44.99 ea.
Chicken Fettuccine Alfredo, Shrimp Fettuccine Alfredo, Lasagna, Chichen Cacciatore, Santa Fe Chicken, Jambalaya, Chicken Pesto - $49.49 ea.
Garden Salad - includes 10 dressings of your choice - $29.99 ea.
Premium Salad w/ choice of 10 individual dressings
Shrimp Caesar w/ croutons, Chicken & Canberry Spring Mix - $39.99 ea.
Catering Information -
West Side Sioux Falls Call - (605)335-8500
East Side Sioux Falls Call - (605)334-9334