Welcome to the Tomacellis web page!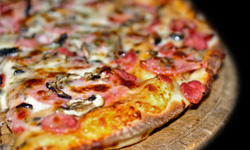 We make pizza and pasta so good you won't beleive your taste buds! Come in for dine in or pickup at one of our three locations around Sioux Falls and Sioux City. Or just call in and have delicious pizza, pasta, or wings delivered directly to your house!
About Us
Tomacellis has been making great food for the Sioux Falls area for many years, and recently has expanded to North Sioux City. Our goal is to provide great tasting, high quality food at a reasonable price. Call in for carry-out or delivery today!